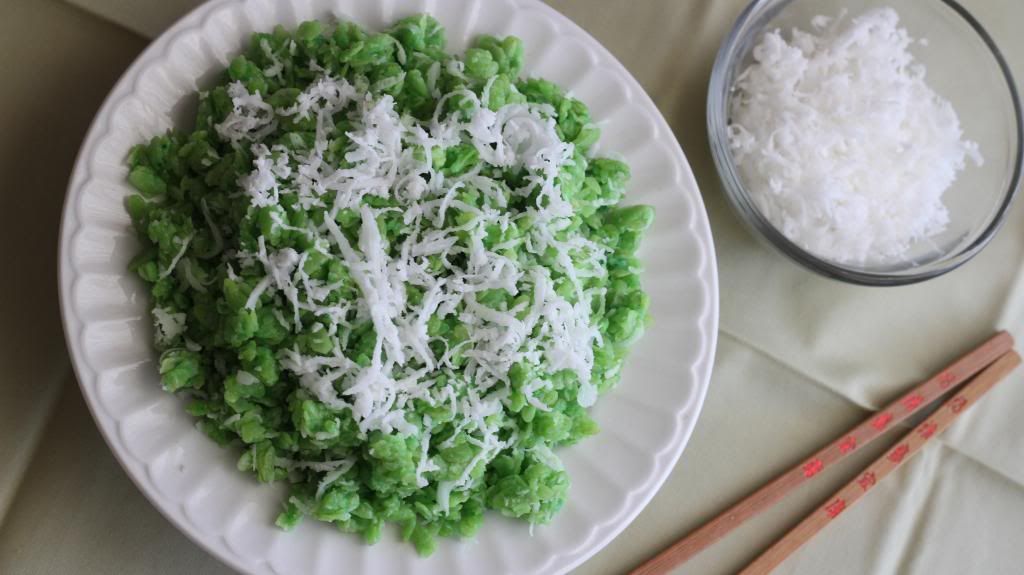 Sweet Rice Flakes with Coconut Shreds (Com Dep Tron Dua)
Ingredients:
1 Young Coconut
1 Brown Coconut
1 bag Sweet Rice Flakes
4 Tbsp. Sugar
2 drops Pandan Extract
Scrape 1 Brown Coconut, put into a bowl and set aside.
Remove any brown flakes you might have from your bag of Sweet Rice Flakes. Put the Sweet Rice Flakes in a large strainer and rinse it with water.
Let it air dry for a few minutes. Put in a bowl and set aside.
Scoop some of the Coconut Shreds into a bowl. Save some of the coconut shreds to sprinkle on top of the Sweet Rice Flakes later.
Pour in 1 Young Coconut Juice, about 1 1/2 cup. Mix it in with the Coconut Shreds. Strain it into a small sauce pan.
Using medium-low heat, add 4 Tbsp. Sugar. Add 2 drops of Pandan Extract for color. Mix well and remove from heat.
Using a spoon, add some coconut mixture on to the Sweet Rice Flakes. Mix and cover with plastic wrap for 15 minutes. After 15 minutes, add a few more spoon of coconut mixture and cover again.
Let the Sweet Rice Flakes absorb the coconut mixture. When you are done sprinkle some Coconut Shreds on top and enjoy.