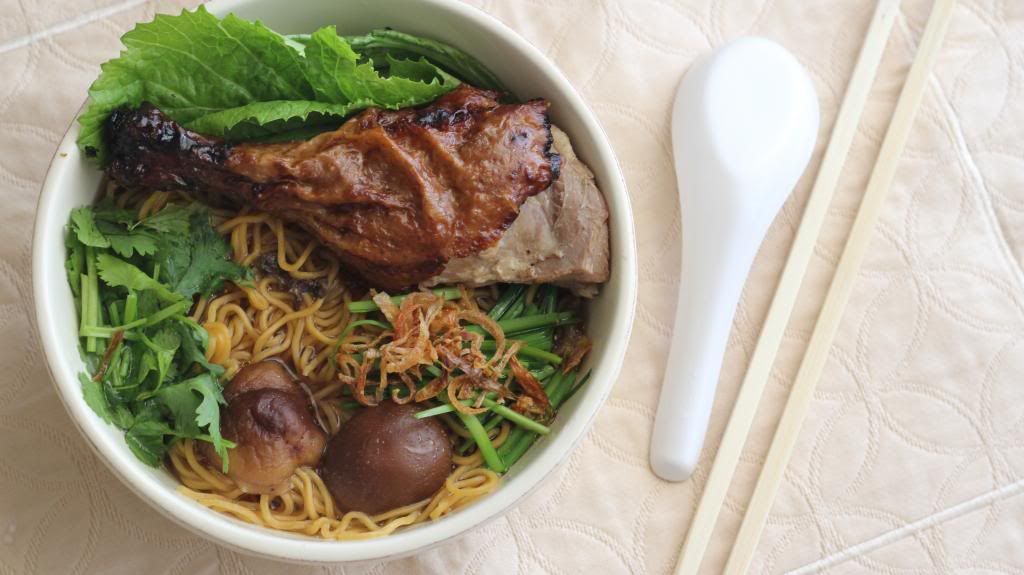 Mi Vit Tiem (Vietnamese Roasted Duck Soup with Egg Noodles)
Ingredients:
Broth
1 lb. Pork Bone
1 lb. Roasted Duck
1/2 Onion
1 Daikon
1 tsp. Salt
1 tsp. Salt or to taste
1 Tbsp. Sugar
2 Tbsp. Soy Sauce
1 Tbsp. Oyster Sauce
1/3 cup Shitake Mushroom
10 cups Water
Spices
Dried Cloves
Dried Cinnamon Stick
Star Anise
Dried Dates
Radix Astragali
Other
Egg Noodles
Dried Shallots
Chives
Cilantro
Lettuce or Greens
Cut 1 Daikon into chunk and set aside. In a pot boil 1 lb. Pork Bone. Semi cook the bones.
Take it out and dump out the water. Then rinse the bones and set aside. Fill a pot with 10 cups Water. Bring to a boil. Add in the semi-cooked Pork Bones
In the mean time soak 1/3 Shitake Mushroom in water to soften and set aside. Put all the spices in a muslin bag and set aside.
Roast 1/2 an Onion, peel and put in the broth. Put in the spice bag and the Daikon. Add 1 tsp. Salt. Let it simmer for about 45 minutes to one hour.
Remember to skim the broth. After 45 minutes or an hour, remove the Daikon, spice bag, and Pork Bones from the broth.
Continue to let it summer, add 1 Tbsp. Sugar. Add 2 Tbsp. Soy Sauce or to taste. Add 1 Tbsp. Oyster Sauce. Add in the Shitake Mushroom. Add 1 tsp. Salt or to taste.
Let it simmer for 10 minutes add in the Roasted Duck. continue to let it simmer For 15 minutes or until ready to serve.
Boil some water add in the Egg Noodles for 1-2 minutes. Remove and rinse with cold water, drain out the water and put into a bowl.
Pour in the soup. Place the Roasted Duck and some Shitake Mushroom on top. Add some Chives and Cilantro. Add some lettuce or greens. Sprinkle some Dried Shallots and serve.