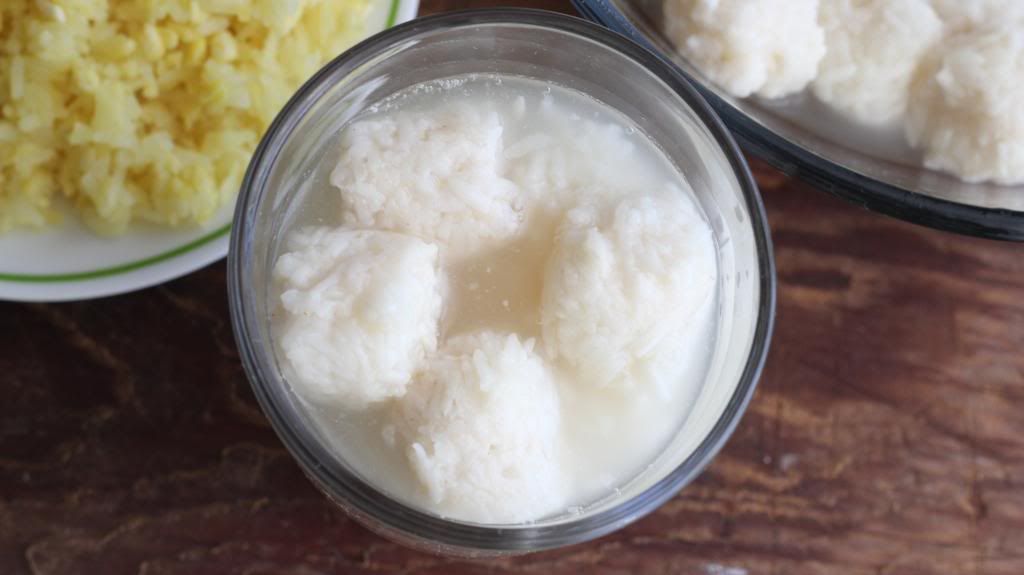 Com Ruou Mien Nam (Vietnamese Rice Wine Dessert)
Ingredients
2 cup Sweet Rice
8 small Dried Yeast
2 cup + 2 Tbsp. Water (add more or less)
1 Tbsp. Salt
1 cup Water
Banana Leaves
2 cup Water
Sugar
Rinse 2 cups Sweet Rice about 2 times. Then add in 2 cups plus 2 Tbsp. Water. Then cook the Sweet Rice in a rice cooker.
Once it's done open the rice cooker, shuffle the Sweet Rice and close the rice cooking again. Let it keep warm for about 10 minutes.
While you let the Sweet Rice keep warm. Mix 1 cup Water with 1 Tbsp. Salt. Set it aside.
Smash 8 small Dried Yeast. You can get these at most Asian Supermarket, usually in a small package of 12.
Once it becomes a powder form. Using a fine strainer and strain the Dried Yeast, make sure there are no lumps.
Then set aside.
Place 2 layers of Banana Leaves in a large colander. After you let the Sweet Rice keep warm for 10 minutes, take it out and scoop it onto the Banana Leaves.
Spread the Sweet Rice around, let it cool for 7-10 minutes. Then sprinkle the Dried Yeast over the Sweet Rice. To help it spread evenly,
put the Dried Yeast in the strainer and let it falls onto the Sweet Rice. Shuffle the Sweet Rice and Dried Yeast together.
Cut the Banana Leaves into long strips about 5 inches long and 1 inch wide. Pour some of the Salt Water mixture into a small bowl.
Dip your hands in the Salt Water mixture. Take some of the Sweet Rice and roll into a small ball. Dip the ball in the Salt Water mixture.
Then wrap the ball with a strip of Banana Leaf. Place it into a glass bowl. Remember to use a glass bowl with a lid.
Repeat until you roll all of the Sweet Rice into balls.
Sprinkle a little bit of Salt Water on top, remember to throw away the leftover Salt Water. After you are done, cover with plastic wrap. Then place the lid over the bowl.
Put the bowl in the oven for 1-2 days, do not turn on or use your oven while the bowl is inside.
After 1-2 days, take the bowl out of the oven and remove the lid. There should be a fermented smell and some water that has built up inside the bowl. Remove the Banana Leaves.
You can store it in the fridge until you are ready to serve. When you are ready to serve, in a small sauce pan add 2 cups Water. Add some Sugar, using low heat wait for it to dissolved and remove from heat.
Put some of the Rice Wine Balls into a bowl. Add in some of the water that was in the Rice Wine Bowl. Depends on how sweet your like it, pour in the Sugar Syrup Water.
Eat with some Mung Bean Sticky Rice, Xoi Vo. Put in some Sticky Rice into your bowl of Rice Wine Balls, mix and enjoy.