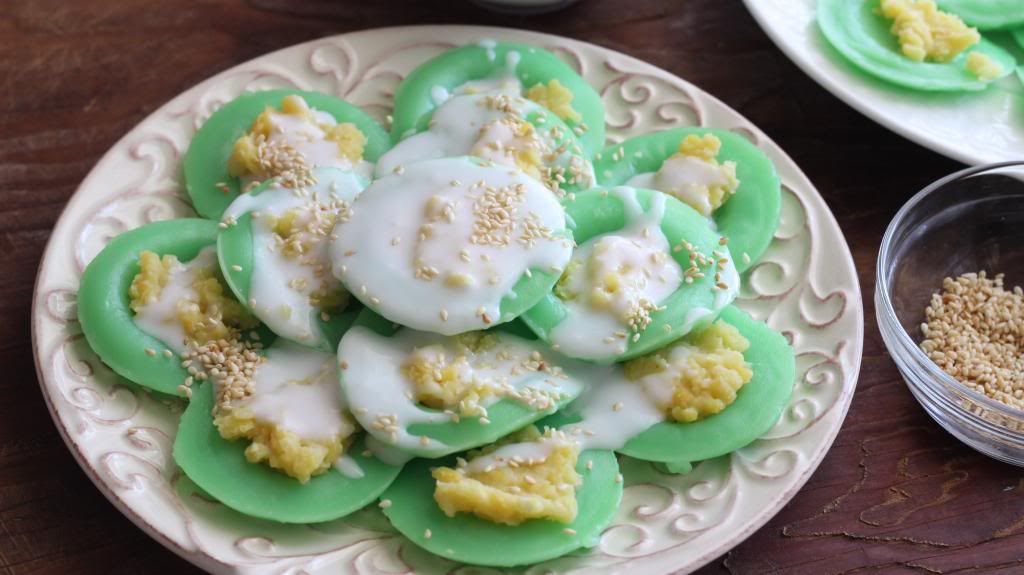 Banh Beo Ngot La Dua (Steamed Rice Pandan Cakes with Mung Bean and Coconut)
Banh Beo, Vietnamese Steamed Rice Cake is a delicious appetizer usually with topping such as Dried Shrimp, Pork, or both. I love making these steamed cake, so far I have
Banh Beo Tom Chay
and
Banh Beo Bi
on my blog. Today I'll be sharing another Banh Beo recipe, this time a more sweeter Banh Beo that will satisfy your sweet cravings. =D

Ingredients
Batter
3/4 Rice Flour
3/4 Tapioca Starch
2 1/2 cup warm Water
1/2 tsp. Pandan Extract
1/2 tsp. Salt
Mung Bean Paste
Pinch of Salt
2 Tbsp. Sugar
1/2 cup Mung Bean
Coconut Sauce
1 cup Coconut Milk
1/2 tsp. Vanilla Sugar
2 1/2 Tbsp. Sugar
3/4 tsp. Tapioca Starch
Extra Ingredients
3 Tbsp. Sesame Seeds
In a bowl add 3/4 cup Rice Flour. Add 3/4 cup Tapioca Starch. Mix. Add 2 1/2 cup warm Water. Mix well.
Cover with plastic wrap. Let it sit for about 30 minutes.
Soak 1/2 cup Mung Bean in warm water for 4 hours. Put in a small sauce pan, rinse the Mung Bean 3 times.
Add enough water that it covers the Mung Bean. Cook using medium heat. Remember to add a pinch of Salt. When some of the water has been absorbed.
Add in 2 Tbsp. Sugar. When it soften, mix and eventually it will turn into a paste. Then, remove from heat and set aside.
Going back to the batter, after 30 minutes mix the batter and add in 1/2 tsp. Pandan Extract. Add 1/2 tsp. Salt and mix.
Have your steamer ready. Pour in the batter into each dish, steam until cooked.
Using the tip of a knife, remove the steamed cake and place on a plate. Repeat until you use up all the batter.
Scoop some of the Mung Bean paste on top of each cake.
To make the coconut sauce, in a sauce pan add 1 cup Coconut Milk. Add in 1/2 tsp. Vanilla Sugar. Add 2 1/2 Tbsp. Sugar. Add 3/4 tsp. Tapioca Starch.
Using medium-low heat, mix well. Then remove from heat and set aside.
In a pan, roast 3 Tbsp. Sesame Seed. Using medium-low heat, roast until slightly brown. Remove from heat and set aside.
Have your Steamed Rice Cake, Roasted Sesame Seed, and Coconut Sauce ready. To serve, pour some Coconut Sauce on top and sprinkle some Roasted Sesame Seeds and enjoy!