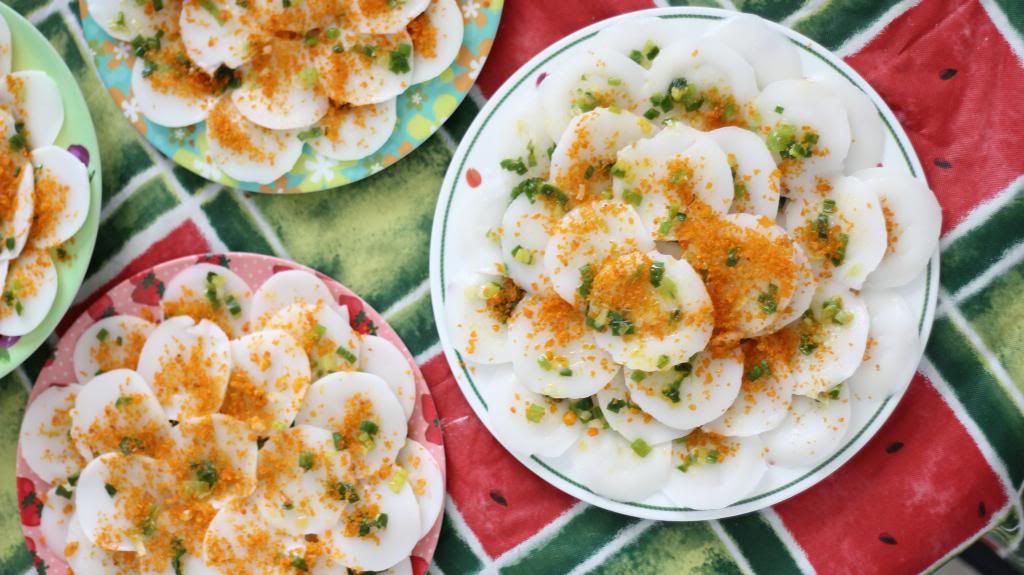 Banh Beo Tom Chay (Steamed Rice Cakes With Dried Shrimp)
Ingredients
1 bag Rice Flour
6 cup Warm Water
3 cup Hot Water
1 cup Dried Shrimp (soaked in water)
2 Tbsp. Annatto Seed Oil
2 tsp. minced Garlic
1/4 cup chopped Green Onions
1/2 cup Oil
1 cup chopped Green Onions
Fresh Herbs
Dipping Fish Sauce
Mince 1 cup Dried Shrimp. Remember to soak it in water for at least 4 hours. Then set aside.
In a large bowl add in 1 bag Rice Flour. Mix with 6 cups Warm Water and 3 cups Hot Water. Mix well, then let it sits for 30 minutes.
In a pan add in 2 Tbsp. Annatto Seed Oil and 2 tsp. minced Garlic. Saute for a few minutes. Add 1 cup minced Dried Shrimp. Stir for about 3 minutes. Add in 1/4 cup chopped Green Onions.
Mix until it looks dry, remove from heat and set aside. In a different pan, add 1/2 cup Oil and 1 cup chopped Green Onions. Mix for about 1 minute, remove from heat and set aside.
Have your steamer ready. Pour batter in each dish. Steam for 5 minutes or until cooked. Using the tip of a knife remove the Steamed Rice Cake and set it on a plate.
Repeat until you use up all of your batter. Spread some of the Scallion Oil on top. Add on top some Dried Shrimp. Serve with Fresh Herbs and Dipping Fish Sauce.