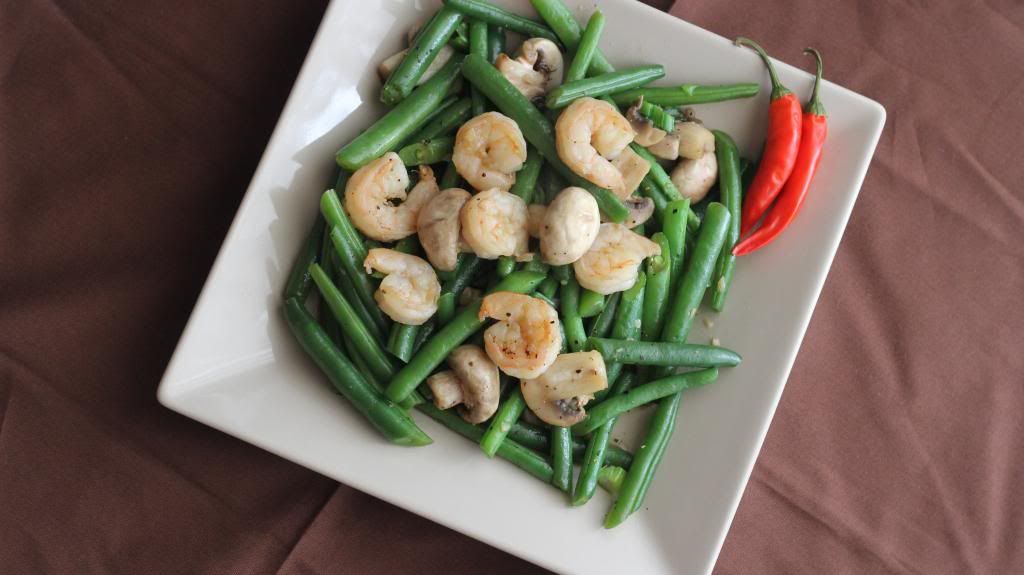 Dau Que Xao Nam Tom (Stir-fry Green Beans with Mushroom and Shrimp)
Ingredients
1 lb. Green Beans
8 oz. White Mushroom
1/2 cup Shrimp
1 Tbsp. minced Garlic
1 chopped Green Onion
2 Tbsp. Oyster Sauce
1/8 tsp. Mushroom Seasoning
1 tsp. Sugar
1/2 tsp. Salt
Pinch of Salt
2 Tbsp. Oil
Black Pepper
Cut 1 lb. Green Beans into 2 inch long pieces. Wash and rinse, then set aside. Wash and rinse 8 oz. White Mushroom. Cut it in half, put in a bowl and set aside.
Peel and devein 1/2 cup Shrimp, put in a bowl and set aside. Chop 1 Green Onion. Mince some Garlic, you need 1 Tbsp.
Add water into a pan, bring to a boil. Add a pinch of Salt. Add in your Green Beans. Boil for 5-7 minutes. Drain out and rinse with cold water. Then set aside.
In a different pan add 2 Tbsp. Oil. Add 1 Tbsp. minced Garlic. Saute for a few minutes. Add the Shrimp. Add in the White Mushroom. Add in the Green Beans.
Add 1/8 tsp. Mushroom Seasoning. Add 1 tsp. Sugar. Add 1/2 tsp. Salt. Add 2 Tbsp. Oyster Sauce. Cook for about 7 minutes. Add chopped Green Onion and some Black Pepper.
Mix well and remove from heat to serve.