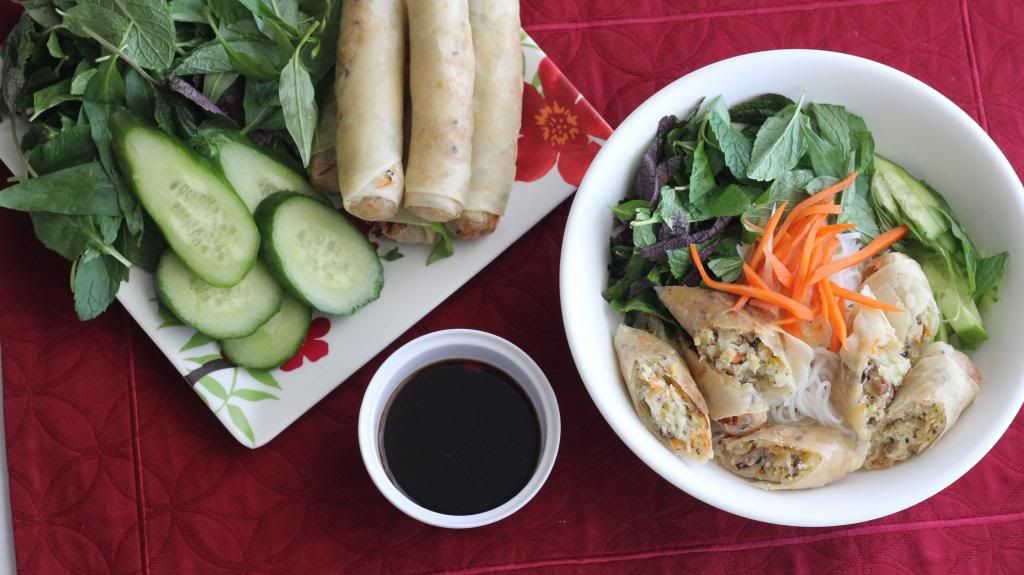 Bun Cha Gio Chay (Vermicelli Noodles with Vegetarian Egg Rolls)
Ingredients
Cooked Vermicelli Noodles
4-5 Vegetarian Egg Rolls
Sliced Cucumbers
Fresh Herbs
Pickled Daikon and Carrots
Vegetarian Sauce: (use Chinese Soup Spoon)
1 Spoon Sugar
3 Spoons Water
1 Spoon Lime Juice
3 Spoons Soy Sauce
Hot Pepper (optional)
In a small bowl, mix 1 Spoon Sugar and 3 Spoons Water. Add 1 Spoon Lime Juice. Add 3 Spoons Soy Sauce. Mix. Add Hot Pepper if you like it spicy.
To assemble the bowl, have some Vermicelli Noodles. Add in some sliced cucumbers. Cut some Fresh Herbs to add on top. Cut some Vegetarian Egg Rolls.
Add some Pickled Daikon and Carrots. Pour on some Vegetarian Sauce and enjoy.