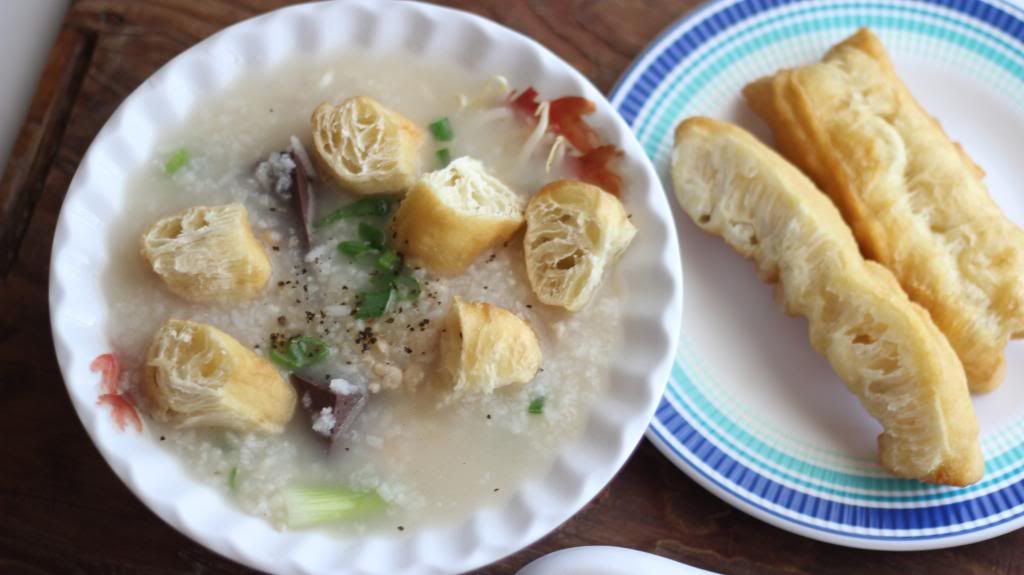 Chao Huyet (Pork Blood Congee/Porridge)
Ingredients
1 Block Pork Blood
1/2 cup Ground Pork
1/2 cup Dried Shrimp
1 cup uncooked Rice
3 chopped Green Onions
Green Onion Stems
1 Tbsp. Oil
1 Tbsp. minced Garlic
8 cups Water
2 cups Water
1 1/2 tsp. Salt
3/4 tsp. Sugar
1/3 tsp. Mushroom Seasoning
1 Tbsp. Fish Sauce
Extra Ingredients
Bean Sprouts
Black Pepper
Dau Chao Quay
In a sauce pan, boil 1 Block Pork Blood. Remove from pan and let it air dry. Then set aside.
Roast 1 cup uncooked Rice, remember to use low heat. When it turns a solid white color remove from heat and set aside.
In a pan add 1 Tbsp. Oil. Add 1 Tbsp. minced Garlic. Sauté until slightly brown. Add 1/2 cup Dried Shrimp. Remember to soak the Dried Shrimp in water for 4 hrs. before using it.
Add 1/2 cup Ground Pork. Try to break the Pork into smaller pieces. Cook until the meat is no longer pink, remove from heat and set aside.
Fill a large pot with 8 cups Water. Bring to a boil, add in the 1 cup roast uncooked Rice. Add in the Pork and Dried Shrimp.
Bring it down to a simmer. Let it simmer for about 10 minutes. Add 1/3 tsp. Mushroom Seasoning. Add 1 1/2 tsp. Salt. Add 3/4 tsp. Sugar.
When the rice has broken down, add in 2 cups Water.
Continue to let it simmer for another 5 minutes. Add in the Green Onion stems. Add 1 Tbsp. Fish Sauce. Continue to let it simmer. Cut the Pork Blood into smaller pieces. Add in the congee.
Add in the chopped Green Onions. In a bowl, add some Bean Sprouts then pour in the congee. Add some Black Pepper and some Dau Chao Quay. Enjoy your congee.