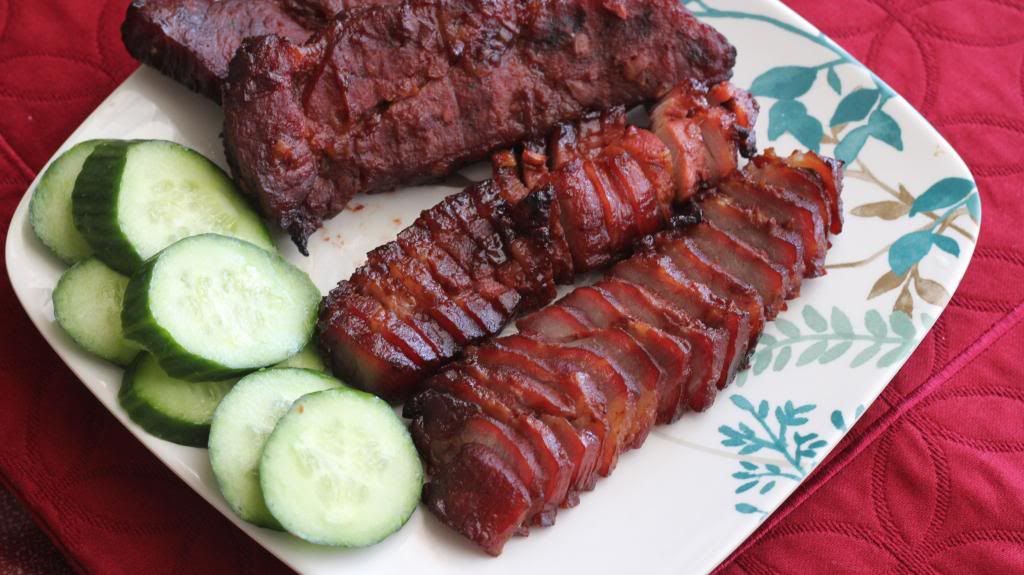 Thit Xa Xiu (Barbecued Pork)
Ingredients
2 1/2 lbs. Pork Shoulder
1/2 cup Hoisin Sauce
3 tsp. Sesame Oil
2 Tbsp. Dark Soy Sauce
3 Tbsp. Light Soy Sauce
3 Tbsp. Rice Cooking Wine
2 tsp. Barbecued Pork Seasoning (optional)
2 Drops Red Food Coloring (optional)
5 sliced Garlic Cloves
5 sliced Shallots
2 Tbsp. Honey
1/2 tsp. Salt
Cut 2 1/2 lbs. Pork Shoulder about 5 inch long and 1/2 inch thick. Then set aside. Add 5 sliced Garlic Cloves and 5 sliced Shallots into a mortar. Using a pestle pound it together and set aside.
To marinate, add the Pork into a large bowl. Add the Garlic and Shallots that was pounded. Add 3 Tbsp. Light Soy Sauce. Add 2 Tbsp. Dark Soy Sauce. Add 3 Tbsp. Rice Cooking Wine. Add 3 tsp. Sesame Oil.
Add 2 tsp. Barbecued Pork Seasoning. Add 2 drops Red Food Coloring. Add 1/2 cup Hoison Sauce. Add 2 Tbsp. Honey. Add 1/2 tsp. Salt. Mix well, cover with plastic wrap. Let it marinate at least 2 hours.
Put some aluminum foil on a baking pan. Place a rack over the top. After 2 hours, put marinated pork on the rack. Put in oven for 30 minutes at 375degrees F. After 30 minutes, open the oven and turn the Pork over. Spread some more of the marinated sauce on it.
Continue to let it bake for another 30 minutes or until cooked at 375 degrees F. Cut into slices to serve. Enjoy with a nice bowl of rice.