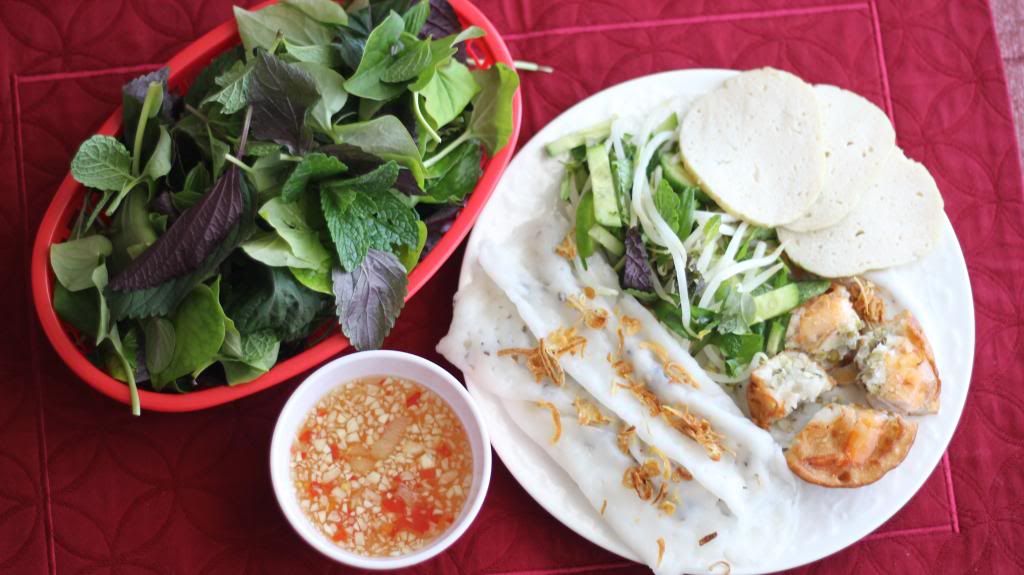 Banh Cuon (Vietnamese Steamed Rice Rolls)
Ingredients
Batter
1 bag Steamed Rice Rolls Flour(3 cups Rice Flour and 1/2 cup Tapioca Starch)
4 cup Water
Fillings
1/2 lb. Pork
3 Garlic Cloves
2 large Wood Ear Mushroom (soak in water)
1 Tbsp. Olive Oil
3/4 cup sliced Shallots
3 Tbsp. Oil
1/2 tsp. Salt
1/2 tsp. Sugar
1/8 tsp. Mushroom Seasoning
Black Pepper
Extra
Fresh Herbs
Dried Shallots
Cooked Bean Sprouts
Cucumbers
Dipping Fish Sauce
Cha Lua
Banh Cong
In a bowl add 1 bag Steamed Rice Rolls Flour or 3 cups Rice Flour and 1/2 cup Tapioca Starch.
Add 4 cups Water. Mix well, cover with plastic wrap. Let it sit for 15 minutes. Mince 1/2 lb. Pork. Mince in 3 Garlic Cloves. Then set aside. Soak 2 large Wood Ear
Mushroom in water. Once it has expanded and soften, rinse the mushroom and chop. Then set aside. After 15 minutes, add 1 Tbsp. Olive Oil to the batter.
Mix well, set aside. In a pan, add 3 Tbsp. Oil. Using medium heat, add 3/4 cup sliced Shallots. Sauté until slightly brown. Scoop some of the sautéed Shallots into a small bowl. Then set aside.
Add in the minced Pork into pan. Add 1/2 tsp. Salt and 1/2 tsp. Sugar. Add 1/8 tsp. Mushroom Seasoning. Add some Black Pepper. Stir-fry until the meat is cooked. You want it to be in small pieces.
Add in the chopped Wood Ear Mushroom. Add the sautéed Shallots back into pan. Mix well, remove from heat and set aside. Now you should have your batter and fillings.
Wrap a cutting board with aluminum foil. Using a non-stick pan, pour in some batter. To spread it evenly, tilt the pan. Cover with lid and let it cook for about 30 seconds. Flip it on top of the aluminum foil. Spread some fillings and roll.
Place on a plate. Repeat until you are done with the batter and fillings.
Cut some Fresh Herbs and Cucumbers, put some Bean Sprouts in hot water and drain out. Put it a small basket and set aside. To serve, place some Steamed Rice Rolls onto plate.
Sprinkle some Dried Shallots. Cut some Cha Lua slices. Cut 1 Fried Cake. Put some Fresh Herbs, Bean Sprouts and Cucumbers. Pour some Dipping Fish Sauce and enjoy!
)