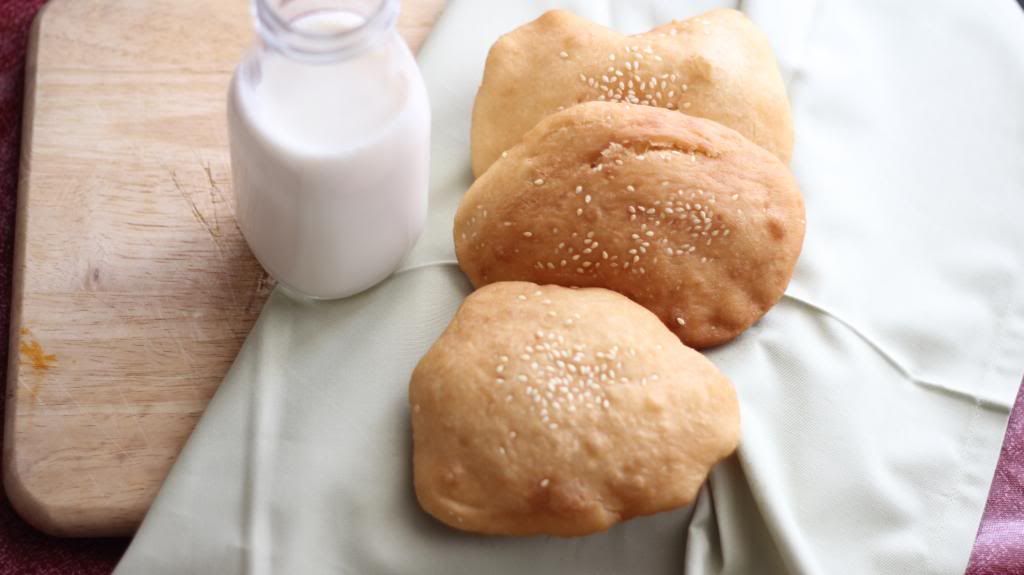 Banh Tieu (Vietnamese Hollow Doughnuts) Donuts Bread
Ingredients
2 1/4 cups Self Rising Flour
1 1/2 cup Water (add more or less)
1 tsp. Alsa Baking Powder
1 tsp. Salted Butter
2 Chinese soup spoons Sugar
Sesame Seeds
Frying Oil
1 Garlic Clove
In a large bowl add in 2 1/4 cups Self Rising Flour. Add in 1 tsp. Alsa Baking Powder. Add in 1 tsp. Salted Butter.
Using a Chinese Soup Spoon, add in 2 spoons Sugar. Mix and add in Water. Start with 1 cup, add more water if it seems too dry. Knead the dough until it's no longer sticky or too dry. I used about 1 1/2 cup water.
When you are done, wrap the bowl with plastic wrap and put in a bag. Let it sit in a warm area for 3 hours. After 3 hours, take it out and knead for about 3 minutes. Flour your surface and roller. Take a piece of the dough. Put some Sesame Seed on top and bottom. Use the roller to roll it out flat.
Having your Frying Oil ready, add in a Garlic Clove. When bubble starts forming around the Garlic, put in your doughnut to fry. Remember to turn your doughnut so it will have an even golden brown color. Place it on paper towel. Repeat until you use up all your dough. The inside of your donut should be hollow.
Tips to help make these doughnut successful is to have your oil really hot and when rolling out your dough it needs to be really flat.